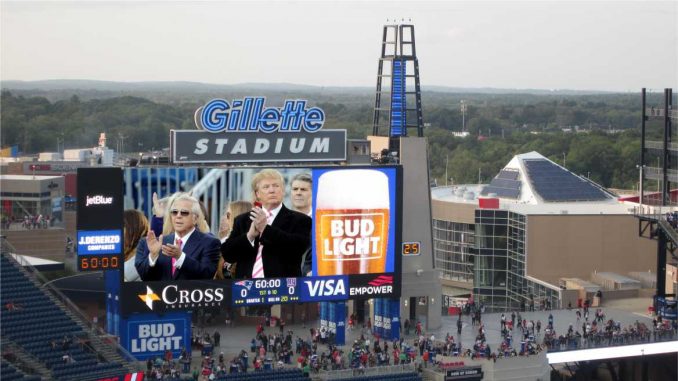 The New England Patriots will play next season in "America Stadium," according to owner Robert Kraft. After the Gillette Company made a mockery of our country by urging men to be gay or female, Kraft immediately sent them a letter demanding they pull the ad and apologize directly to the good men who buy Gillette razors and the women who support them by buying Gillette Lady.
Gillette spokesman, Art Tubolls, released this statement:
"If the Patriots want to pretend that the patriarchy doesn't exist and that old white men who get away with whatever they want don't rule the world, they're perfectly welcome to that delusion. Bobby Kraft can refund the $80 million we paid for the name renewal last week and we'll give him back his Mac n Cheese gift box set."
The Kraft family responded with a statement of their own:
"Not only will the Gillette Company NOT get their money back, their name will be stripped from the stadium and a generic put in is place for the remainder of the term, per the 14th section of the leased name agreement. Basically, we're going to call it 'America Stadium,' because we can, and we're going to strip the Gillette name from the property. Have a good time explaining that to your stockholders."
Gillette, known for its razors and its brother Pen, is expected to lose more than half of its net worth in the battle with the Krafts. Looks like the little guy doesn't want to play in the big leagues. Hannity is calling for the NFL Boycott to be lifted — only for Patriots games.