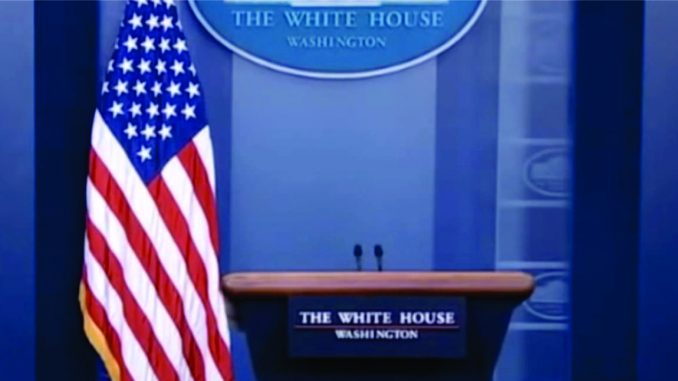 Everyone is upset that our shining beacon of light and one of the only sources of truth in our country, Sarah Huckleberry Sanders, will be leaving the public life for a better career opportunity. According to the Acting Information and Propaganda Director, Art Tubolls, the transition to the next Press Secretary will be seamless:
"President Trump has decided to go with a mix of doing his own briefings and not doing them at all. Each day at 3 PM, the President will read the previous day's articles in the 'news' and decide which outlets will be allowed to join Fox, Breitbart and The Right Wing Nationalist Army Tribune for that day's session. The briefing will be delivered either by Trump himself or One of his kids.

As for the bulk of what's happening in the White House, you can tune into the President's Twitter feed, where the truth about the witch hunt is exposed daily. No collusion."
Leaving the Press Secretary job open also gives President Trump the opportunity to bring Donald Junior into the West Wing officially, shielding him from criminal prosecution under Executive Privilege. He doesn' have to be appointed or confirmed to the job, just an employee. The maximum number of Trump administration employees was established by the federal guidelines of the "maximum occupancy" sign placed in the Mural Room by the local Fire Marshall.
So while we'll miss Sarah Huckleberry Sanders to bits, we're happy that we may get to see President Trump more often — or maybe even the stunning Ivanka. Under the new rule, even Barron or Melania could deliver a briefing, though Tifanny was specifically excluded as "the other one's kid." Rumors that Trump never shattered the image of those Chef Boyardee cans filling his cupboards at Maples Manor have strained the relationship with his other daughter, costing her the ability to have any kind of security clearance.
We look forward to the transition in 2019. It should be fun!